Brunch On Grand Bohemia
Brunch On Grand Bohemia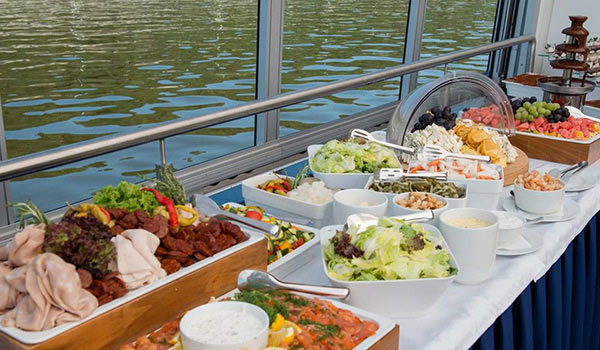 A GOURMET EXPERIENCE AND CRUISE ALL IN ONE:
A unique event offering a pleasant way to spend a Sunday morning is a brunch on the Grand Bohemia. Meet with friends and acquaintances, family, your partner or business partners for a peaceful cruise through the historical centre of Prague combined with a delicious brunch.
CHILDREN WELCOME:
There is also a children's corner on board and children up to 5 years old cruise for free.
Enjoy unlimited consumption of red and white wines, beer and soft drinks, a wide range of warm and cold meals, a welcome drink upon arrival and live music.
Departure:
The boat departs from the dock at Čech Bridge, pier No. 5. Animals are not permitted aboard.
Duration:
150 minutes
Price:
79 € (adults) | 56 € (children 5 - 12 years of age)
Cruise Timetable:
 Reservations are required at least 24 hours in advance.
Grand Bohemia Brunch:
Welcome drink:
Prosecco Introvigne DOC, frizzante/homemade lemonade 
Cold refreshments:
Czech and foreign cheese platter (Gouda, smoked Emmental, Brie, Balkan cheese) with walnuts and onion marmalade
***
Czech and foreign cold cut platter (mortadella, ham off the bone, chicken ham, Hungarian salami) with pickled vegetables
***
Caesar salad with Parmesan and croutons (chicken/prawns)
***
Salt-cured salmon marinated in dill with sour cream lemon dip
***
Green salad with herb dressing
***
Fresh vegetables (cucumber, tomatoes, peppers, carrots, radishes, celery stalks) with yoghurt dip
***
Homemade pickled gherkins with chilli and ginger
Warm refreshments:
Genuine Russian borsht with sour cream
***
Fillet of pike-perch in clarified butter with coarse-grain sea salt and herbs
***
Chicken roulade with green onion and baby carrot stuffing and rosemary sauce
***
Pork and chicken mini-schnitzels
***
Roast beef in pepper crust (sliced in front of the guests) with Dijon mustard sauce
***

Jacket Grenaille potatoes with fresh herbs
***
Bean ragout ('cowboy beans': red onion, beans, chopped tomatoes, garlic, herbs and spices)
***
Grilled tomatoes
***
Portobello mushrooms stuffed with chopped olives and shallots and topped with melted Parmesan
***

White and whole-grain pastry, cheese spread with chives
Desserts:
Chocolate fountain with fresh fruit (Belgian chocolate with a selection of seasonal fruit)
***
Homemade tiramisu
***
Mini-desserts from sour cream (with strawberry sauce/chocolate/honey with walnuts)
Drinks:
Pilsner Urquell 12° on tap
***
White/red house wine by the glass
***
Soft drinks: homemade lemonade, still/sparkling water
***
Coffee, tea