Sweet Prague - A La Carte dinner cruise
Sweet Prague - A La Carte dinner cruise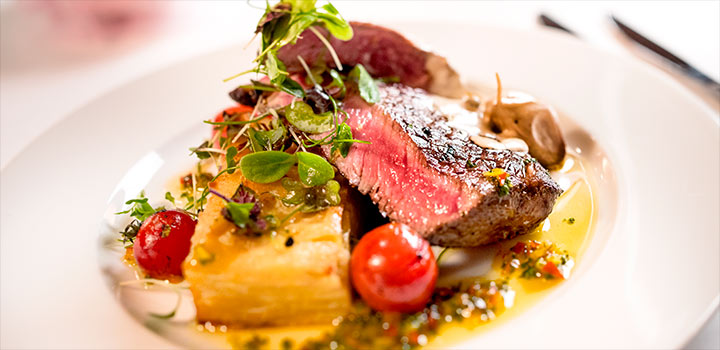 Enchanting music, the beautiful and cosy atmosphere of the Lužnice and three-course gourmet menu. That is Sweet Prague. 
Make your better half happy, delight your family, impress your business partner or conclude your wedding day with a fantastic dinner. 
THE Á LA CARTE MENU INCLUDES
A three-course menu of the highest quality, with excellent wine and other alcoholic and non-alcoholic drinks. Live music, to add to the pleasant atmosphere, and magnificent views of Prague's monuments illuminated at night. 
USEFUL INFORMATION
It's necessary to reserve your place on boat ahead of time. Payment in advance required. The interior areas of the boats are non-smoking. The boats are air-conditioned and heated. Children under 3 not allowed on the boat.
Departure:
The boat departs from the dock at Čech Bridge, pier No. 5. Animals are not permitted aboard.
Cruise Timetable:
Duration:
180 min
Route:
From Čechův Bridge to Vyšehrad. On the cruise you will see Prague Castle, Charles Bridge, Emauzy Monastery and many other beautiful places lit up at night.
Price:
Sweet Prague Essential 99 € (seats in the main part of the boat, max. capacity 32 persons)
Sweet Prague Gold 139 € (seats in the bows of the boat with panoramic view, max. capacity 16 persons)
To book places on the boat it is necessary to make a reservation and to pay in advance.
The boat is air-conditioned and heated and has a no smoking policy.
No reduction for children, children up to 3 years of age free of charge.
SWEET PRAGUE MENU
APERITIF
***
STARTER
Prague ham with cranberry dip
Swordfish carpaccio with olive oil and lemon
Caprese salad - buffallo mozzarella and cherry tomatoes with home made pesto
MAIN COURSE
Duck confit with Carlsbad dumplings, red cabbage
Swordfish en papillote with cherry tomaoes and olives, potato grenaille
Club steak, creamed potatoes, pepper sauce
DESSERT
Selection of Italian and Czech cheeses
Strawberries with mint leaves and lemon sorbet
Chocolate mousse
DRINKS
Coffee, tea
White wine Chardonnay DOC or red Primitivo IGT (essential)
White wine Satrico IGT/Corvo or red Montepulciano DOC/Corvo IGT (gold)
Wine (1 bottle for 2 people), beer, mineral water
VEGETARIAN DISHES*
Vegetable lasagne with ricotta, spinach and tomatoes
Grilled vegetables, creamed potatoes
*it is necessary to reserve in advance (before the cruise)
You might also be interested in...